DPI's knowledge center
FMC Tariffs
What is an FMC Tariff?

Vessel-Operating Common Carriers (VOCCs) and Non-Vessel-Operating Common Carriers (NVOCCs) operating in the U.S. ocean trade lane must comply with U.S. Federal Maritime Commission's Tariff Regulations.

An FMC Tariff consists of two parts:
1) FMC Tariff Rules
a) Scope Rules:
The places between which cargo will be carried.
b) Classification Rules:
A list of each classification of cargo used, for example, hazardous cargo.
c) Surcharge Rules:
Charges, surcharges, or fees that in any way change, affect, or determines any part or the total of the rates or charges.
d) Bill of Lading Rules:
Copies of the terms of the bill of lading,
e) Term Rule: ?? Payment rule? Definitions?
2)
FMC Tariff Rates
- Rates that state the level of compensation for ocean freight. Tarff rates must include the applicable origin, destination, commodity name or classification, and service levels, if any.

FMC Tariff Rules and Rates must be published online in an accessible manner in compliance with FMC's tariff regulations.


Read on to learn more about FMC Tariff Key Points and Limitations.
FMC Tariff
Key Points
NVOCCs and VOCCs should be aware of the following FMC Tariff key points.:
ALL CHARGES & TERMS
NVOCCs and VOCCs must ensure all charges and terms that affect their ocean freight rate prices are reflected in their Tariff Rules and kept up to date.
CLEAR & CONCISE
Tariff Rules should be clear and concise leaving no question as to which freight rates or cargoes the rules will apply to.
COMMODITY EXEPMTIONS
FMC Tariffs Rates are not required for bulk cargo, forest products, recycled metal scrap, new assembled motor vehicles, waste paper, paper waste, and military cargo.

TARIFF RATE ALTERNATIVES
In lieu of Tariff Rates, VOCCs may issue Service Contracts (SC) and NVOCCs my issue Negotiated Rate Arrangements (NRAs) or NVOCC Service Arrangements (NSAs).

SERVICE CONTRACTS & NVOCCs
VOCCs must obtain proof that an NVOCC signatory to Service Contracts has published an FMC Tariff. VOCCs may check the
FMC's official list of accepted FMC Tariffs
or require other evidence
, such as a current FMC Tariff Title Page..
FMC Tariff
Obligations
Tariff must be published in compliance with FMC's Tariff regulations. These include the following.:
Tariff History
FMC Tariffs must include five years of history.
Tariff Terminology
FMC Tariffs must use Approved Codes, Geographic Names, and Commodity Coding.
Access by Effective Date
FMC Tariffs must include the
capability for a retriever to enter an access date, i.e., a specific date for the retrieval of tariff data, so that only data in effect on that date would be directly retrievable.
Online Access
FMC Tariffs must be available electronically to any person, without time, quantity, or other limitation.
Access Fees
A reasonable fee may be charged for FMC Tariff access,. No fee may be charged for access by a U.S. Federal agency or when a Tariff Rate alternative is used.
All surcharge or assessorial amounts applicable to an NRA are fixed once the first shipment is received by the NVOCC for transportation.


An amendment and new shipper customer agreement to the amended NRA is required before applying updates to surcharges and assessorial.
Why use an FMC Tariff?
Tariff Rules should be considered for:
- applying surcharges to rates,
- adjusting ocean freight rates to move with the market, and
- NVOCCs and VOCCs with centralized pricing strategies where standardized rates and surcharges are offered to most shippers.
- let shippers know your charges and terms - protects NVOCCs for disputes and provides notice to shippers weather they access them or not - this is industry practice
Limits your liability and obligations -
Provides notice to shippers of your rules and terms - that is recognized --- has legal binding
in a dispute you tariff ----
well-written set of FMC tariff rules will give you maximum flexibility allowed under the FMC regulations - alternate service rules, carrier specific rules, diversion rules, payment of freight rule (Rule 7 - credit terms and fees), advice for terminal rules and charges - (can provide rules for your own warehouse, containers, and other services, handling / terminal charges - standard prices known to customers, partking lot etc.
- pricing tool for legally binding prices for your services (view kintetsu - amad logistics, used automobiles _ diversion rule - sample, troy container (and they added with att
FMC Tariff List - VOCCs that request proof of tariff publication - go to the list and your Tariff Rule, member login on hand - Title Page current one - recent date
RATES CAN MOVE WITH THE MARKET
Tariff Rules allow freight rates to move with the market. By filing surcharges that fluctuate in your Tariff Rule, NVOCCs and VOCCs may offer freight rates that are dynamic. Surcharges in effect in Tariff Rules at the time eac
KEEP WATCH ON THE 30-DAY CLOCK
A disadvantage of Tariff Rules that NVOCCs and VOCCs should be aware of is the regulation against increases on less than 30 d
PUBLIC VIEWING
Tariff Rules must be publicly published in an FMC Tariff.

How can DPI help?
Since 1975, DPI has helped organizations comply with U.S. Federal Maritime Commission (FMC) regulations.
Our expert staff is ready to assist NVOCCs and VOCCs with Tariff Rules. We offer members the following services:
-
FMC Tariff Rule Filing and Compliance Review,
and
- FMC Regulation Consultation.

Speak with your account representative or request a consultation by clicking on the button below.
What we offer
FMC Tariff Publication - Rules
NVOCCs and VOCCs must publish and maintain a tariff listing all charges, classifications, rules, and practices applicable to their U.S. ocean freight services. U.S. Federal Maritime Commission (FMC) tariff regulations require that tariffs meet detailed formatting, record-keeping, and access requirements.


DPI has published
thousands
of tariffs for clients all over the world. When you publish your tariff with DPI, we ensure more than just basic compliance with FMC tariff regulations. Our multilingual staff will recommend cost-effective tariff filing strategies and will be
available
to answer all your FMC-related questions.

Our secure online cloud database provides 24/7 access to your FMC tariff and makes requesting updates easy and efficient.
For new NVOCCs and VOCCs, we will publish a tariff that provides all FMC required rules, the full text of your Bill of Lading, and commonly used commercial regulations.
If you have an existing tariff and would like to switch to our services, we can also assist.
Our fees for initial tariff rules publication and annual tariff data base maintenance fee are very reasonable. We charge nominal filing fees per new or revised filing. For our full price list, click
here
.
What we offer
FMC Regulation Consulting
DPI offers customized guidance to Members that require bespoke compliance assistance. DPI's expert staff regularly work with organizations to draft customized Tariff Rules and advice on FMC compliance.


No matter your question, feel free to reach out to our staff. While most Member questions are answered free of charge, should your question require in-depth consulting, we will quote you a consultation fee.

Our fees are $120/hour for FMC Practitioner consulting and $60/hour for non-Practitioner assistance.
Request a consultation by clicking on the button below.
Hey There!
Welcome onboard! Ready to load up on some knowledge?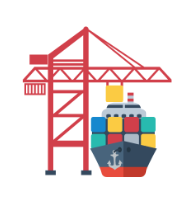 Created with